Hutchison Whampoa shares slump on Singapore debut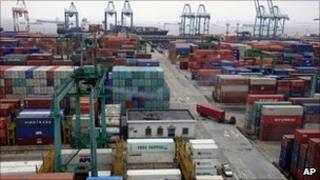 Shares in Hutchison Whampoa's port business have slumped 6% on their market debut.
Hutchison shares slid as low as $0.95 on the Singapore stock exchange, down from their original listing price of $1.01.
It raised $5.5bn (£3.4bn) by selling its stake in Hutchison Port Holdings (HPH) Trust earlier this month.
The share sale was the biggest initial public offering executed through Singapore's markets.
HPH operates two of the world's biggest container ports in Hong Kong and Shenzen.
The trust's terminals handled a record 21 million 20-foot containers in 2010, 17% more than the pervious year.
Hutchison Whampoa is controlled by the Hong Kong billionaire Li Ka-shing.
Bad timing
Sea-borne trade has been rising as demand for Asian goods picks up pace in the wake of the global recovery.
While this means more business for the port operator, analysts say the timing of its stock listing has not been the best.
Asian shares have been declining in wake of the earthquake and tsunami in Japan.
There are concerns about the damage caused by the earthquake and tsunami, not only on Japan but also on the recovery of the region's other economies.
Analysts say the negative sentiment in the market is having an impact on HPH's stock price.
"Hutchison is a huge issue coming out in a volatile market," said Carey Wong of OCBC Investment Research.
"The reception is going to be sentiment-driven," he added.
Investors also fear that a slowdown in growth will affect the container business, hitting profits at the company.