Warren Buffett seeks Asia expansion as he prowls deals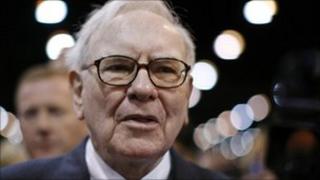 Billionaire investor Warren Buffett is looking to increase his investments in Asia to tap further into the region's growth.
He said his company Berkshire Hathaway is looking to buy entire businesses or large-cap shares in South Korea.
Mr Buffett is in Korea to oversee the start of construction at TaeguTec, a metal-cutter manufacturing firm which he bought over in 2006.
He is the third-richest man in the world according to the Forbes magazine.
Berkshire already holds stakes in South Korean steel maker POSCO and Chinese car and battery maker BYD.
Expanding horizons
With $38bn (£23bn) in cash at the end of last year, Berkshire is looking to add more businesses to its kitty.
In his annual letter to shareholders last month, Mr Buffett said that Berkshire needed "major acquisitions" to expand further.
Last week, Mr Buffett made one of his largest acquisitions ever, as he agreed to buy chemical and lubricants company Lubrizol in a deal worth $9bn.
While that company is based in the US, Mr Buffett has said he is keeping his options open for further acquisitions.
"We are looking for large businesses to buy...we are ready to invest in any country," he said.
Mr Buffett will continue his Asian trip with a visit to India on Tuesday.
He will launch his firm's insurance selling portal in the country and also meet with industry leaders there.