Swiss Re Japan insurance bill estimated at $1.2bn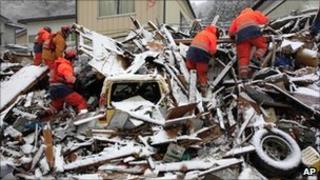 Insurer Swiss Re has estimated that it faces claims from the Japan earthquake and tsunami of about $1.2bn (£738m).
But the world's second largest re-insurance firm said the actual figure may not be known for several months.
Last week, US insurance giant AIG said its claims from the disaster would be at least $700m.
Analysts have estimated that the insurance industry's final bill could reach $35bn, excluding any impact from problems at the nuclear power plants.
Insurance company shares have been under pressure since the disaster, but Swiss Re shares rose 1.4% on Monday on relief that the final bill may not be as high as feared.
The company faces about $800m in claims from the earthquake that struck New Zealand's South Island in February.
"We will be able to absorb current estimates for claims and still maintain significant excess capital," Swiss Re said in a statement.
The company added that the problems at the Fukushima nuclear power plant were unlikely to result in a significant direct loss for property and casualty insurers.