Falkland oil well boosts Rockhopper shares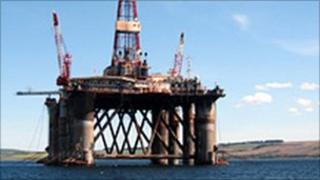 Shares in Rockhopper Exploration jumped 38% after the British oil company said its oil well in the Falkland Islands is likely to prove commercially viable.
In a trading update the firm said an appraisal of its Sea Lion well had found a high quality reservoir package.
"Following this positive result we believe Sea Lion is highly likely to prove commercially viable," said chief executive Samuel Moody.
It raises hopes that the territory could become a new oil province.
The announcement came as oil prices climbed $2 a barrel following a series of air strikes against Libya, the world's twelfth-largest oil producer.
Brent crude rose as much as $2.26 to $116.19 a barrel, while US light, sweet crude rose as much as $2.13 to $103.20.
Exploration
Last Updated at 23 Nov 2017, 16:21 GMT
*Chart shows local time
| price | change | % |
| --- | --- | --- |
| 23.50 p | 0.00 | 0.00 |
Rockhopper began drilling for oil off the coast of the British-governed islands last year and struck oil in May.
It was the first discovery of oil in Falkland Islands waters.
Following further tests the company has said it had discovered a substantial oil column and oil-water contact for the first time.
The quality of the oil is of medium grade, according to the company.
"We can now continue to appraise the Sea Lion discovery and to explore additional prospectivity within our acreage with added confidence," Mr Moody said.
Another explorer in the North Falkland Basin, UK-based Desire Petroleum, saw its shares in the opening minutes of trading leap 33% on the news.
The current exploration of the waters around the Falklands has proved controversial.
Argentina still claims sovereignty over the islands, which lie 300 miles from its shore.
When the exploration plans were first announced, the former UK Defence Minister Bill Rammell said the government had a "legitimate right" to build an oil industry in its waters.
Rockhopper closed up 32.6%, or 70.75 points to end Monday's trading at 287.75p a share.