US house prices fall to lowest level for nine years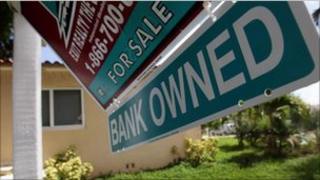 A report on US house sales has said that prices fell by 5.2% in February to their lowest in almost nine years.
The National Association of Realtors said sales of previously occupied homes fell to a seasonally adjusted annual rate of 4.88 million.
That is down 9.6% from 5.4 million in January, and far below the 6 million level that economists regard as a healthy market.
The average price of a previously-owned home is now $156,100 (£96,000).
Millions of home repossessions have forced down home prices and more are expected this year as continuing high unemployment takes its toll.
There is also a glut of unsold homes on the market, which is holding back recovery.
The number of unsold homes rose to 3.49 million in February.