Sberbank makes $6bn profit in 2010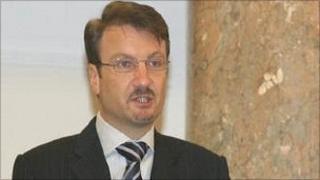 Russia's largest bank, Sberbank has posted a seven-fold increase in profit, bouncing back after the global crisis.
Chief executive German Gref said that net profit for 2010 was 181.6bn roubles ($6.4bn; £4bn), up from 24.4bn roubles in 2009.
He also said that a stake in the state-owned bank could be privatised in the second half of the year.
Russia aims to raise 1 trillion roubles over three years through its huge privatisation drive.
In February, the government raised 96bn roubles from the sale of a 10% stake in the country's second biggest bank, VTB.
Mr Gref said that Russia's National Banking Council would discuss the privatisation of a stake in Sberbank in coming days.
Earlier this month, Sberbank agreed to buy Russian investment bank Troika Dialog for $1bn (£625m). The deal was denominated in US dollars.
"We are gaining the unique opportunity to offer modern financial services to tens of thousands of Russian companies that up until now lacked such possibilities," Mr Gref said in a statement back then.