JJB Sports shareholders and creditors back rescue deal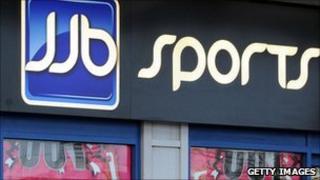 Retailer JJB Sports has secured backing from its shareholders and from landlords of its struggling shops for a plan to avoid entering administration.
Landlords approved changes to JJB's property portfolio allowing it to close up to 89 stores over two years.
They had been offered up to £7.5m if they agreed to the proposals, which include lower rent payments.
JJB chairman Mike McTighe has said he is "confident" the turnaround plan will work.
JJB said the proposed company voluntary arrangement (CVA) was approved, without changes, by a majority of more than 75% of unsecured creditors.
Having won its creditors' blessing, the company's shareholders voted the plan through later the same day.
The UK retailer's share price jumped more than 40% to over 38p in early trading in London, before falling back to end the day 11.5% higher.
Shares hit a low of 11.5p last week, having lost more than 95% of their value since April last year as the company's woes unfolded.
Redesign plan
The agreement to the restructuring plan will now allow the sportswear firm to close 43 of its 250 stores over the next year. JJB will also review the performance of 46 more, which could close if they do not improve by April 2013.
The landlords of these "compromised stores" have been offered extra payments of between £2.5m and £7.5m, depending on how JJB performs over the next two years.
They have also agreed to accept rent at 55% of current levels on the 89 stores in question. This will now be paid on a monthly basis instead of quarterly.
JJB can now pursue its plans to revamp the chain, which will be financed with the proceeds of a £65m fundraising from shareholders and a £25m loan agreement with Bank of Scotland.
This will be based around the success of six trial stores, which have been refocused to appeal to keen amateurs and sporting families.