Warren Buffett makes first trip to India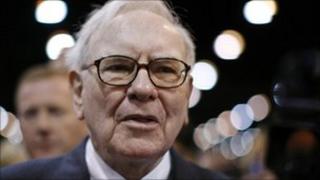 Billionaire investor Warren Buffett has made his first trip to India as he seeks investment opportunities in Asia.
"India is a logical place to look, so I hope I spend some money here," he said on the latest stop of an Asia trip that took him to Korea earlier in the week.
The 80-year-old was at India's hi-tech capital of Bangalore, visiting the office of an Israeli toolmaking firm in which he owns a majority stake.
His investment fund Berkshire Hathaway has $38bn (£23bn) in cash.
Criticising regulations
Mr Buffett also planned to meet wealthy Indian businessmen, to convince them to join him in giving half their wealth to charity.
"I don't consider India as an emerging market," he said. "I consider India as a very big market. We continue to look at large countries like India."
He also played down the chances of his entering India's well-established technology sector, saying he would focus on industries that he had expertise in, such as soft drinks and chewing gum.
The so-called Sage of Omaha agreed earlier this month to act as an agent for Indian insurance firm Bajaj Allianz.
He criticised Indian regulations that limit foreign investments in the insurance sector to a 26% minority stake.
Mr Buffett will later meet Prime Minister Manmohan Singh, although it is not clear what the agenda of the meeting will be.