More food shipments stopped from Fukushima plant region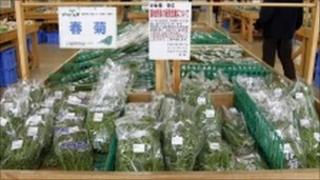 Japan has halted more shipments of vegetables grown near the damaged Fukushima nuclear power plant.
Eleven types of vegetables, including broccoli, cabbage and cauliflower, have been found to have elevated levels of radiation.
Shipments of spinach, milk and green leaf vegetables had already been stopped.
The World Health Organization says countries that import produce from Japan should not be worried.
However, the US has said it will block imports of milk and fresh produce from areas of Japan near the Fukushima nuclear power plant, which was damaged in the 11 March earthquake and tsunami.
The US Food and Drug Administration said all milk and milk products and fresh fruits and vegetables from four Japanese prefectures, Fukushima, Ibaraki, Tochigi and Gunma, will be stopped from entering the country.
Japanese Cabinet Secretary Yukio Edano told a news conference that nations importing food from Japan must take a "logical stance".