No new Bank of England policymakers vote for rate rise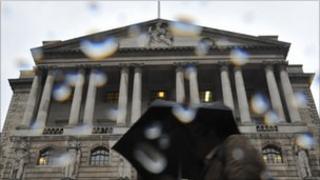 Bank of England policymakers voted 6 to 3 in favour of keeping rates on hold at a record low of 0.5% this month, minutes of March's Monetary Policy Committee (MPC) meeting show.
Hawks Spencer Dale, Martin Weale and Andrew Sentance were unable to win other members over to their side.
There have been some calls for a rise with the Consumer Prices Index showing an annual rate of 4.4% in February.
And the Bank has now warned that inflation could now exceed 5%.
'Significant risk'
Worries are growing about the recent pick-up in inflation, boosted by rising commodity prices and January's VAT increase.
Releasing the minutes of its March meeting, the Bank said there was a "significant risk" inflation could exceed 5% in the coming months.
But, keeping rates on hold, the Bank said it still thought that inflation would fall back in the medium-term.
However, it pointed out that the recent rise in oil prices, fanned by tension in the Middle East and North Africa, had increased adverse risks to both inflation and growth.
That, it said, could have a knock-on effect which could affect businesses and investor confidence.
After the announcement sterling fell by 0.47% against the dollar to $1.62960. It also fell against the euro by 0.39% to 1.14870 euros.
However, the London stock market which had been braced for a more hawkish outcome, picked up and was ahead by 0.5%, or 29 points, at 5791.73.
'As expected'
The MPC added that while recent information on the prospects for UK trade had been encouraging, there was still some uncertainty.
The committee said "it was not yet clear that the weakness in output growth seen in the latter part of 2010 would prove temporary, particularly in light of the latest indicators of a further weakening in consumer spending".
The unchanged 6-3 result to keep interest rates at a historic two year low did not surprise analysts.
"It's broadly as expected," said Ross Walker, of RBS Financial Markets.
"We didn't expect any more dissenters this month. It's the same dilemma, weighing up competing risks of rising inflation versus still weak activity numbers."
And Howard Archer, chief European and UK economist for IHS Global Insight, added: "Latest developments do little to clear the fog surrounding exactly when interest rates will start to rise.
"Indeed, the minutes concluded that recent developments had increased the uncertainty over both the growth and inflation outlooks, with higher oil prices from events in the Middle East and Africa adding both to near-term upside inflation and downside growth risks."
'Not appropriate'
Bank chief economist Mr Dale and external MPC member Martin Weale both again voted for a rise to 0.75%.
And Andrew Sentance maintained his call for an increase to 1%.
"Other members concluded that an increase in Bank Rate was not yet appropriate," the Bank said.
Meanwhile, Adam Posen was again a lone voice calling for an additional £50bn of quantitative easing.