US new home sales hit all-time low in February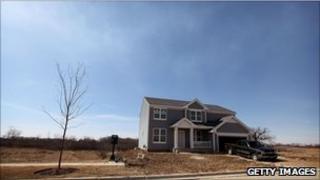 The sale of newly built homes in the US hit its lowest level in February since records began in 1963.
In a further sign that the housing slump continues to deepen, only 250,000 new homes were sold in the month, on a seasonally-adjusted annualised basis.
The figure was down 17% from January, the third monthly fall in a row.
As homebuilders struggle to compete with a new wave of repossessed houses hitting the market, the median price of new home sales fell 14%.
That sent the price of newly built houses down to their lowest level since December 2003, according to data from the US Department of Commerce.
'Further declines'
Despite the fall, the median price of new homes still remains some 30% more expensive than the median price of existing homes.
Normally the difference is only 15%, but since the housing market collapse, the margin has increased as the price of existing home sales has sunk under the weight of millions of foreclosed houses auctioned off cheaply by mortgage lenders.
Another three million home repossessions are expected this year.
"We fully expect further price declines in order to help clear inventory from the market, although this problem is more acute in the existing home market than the new home market," said San Greenhaus, economist at brokerage Miller Tabak.
Sales of existing homes also fell steeply in February, according to data released by the National Association of Realtors on Monday, while prices hit their lowest level in nine years.
New home sales comprise about 10% of the housing market.
There are now about nine months' worth of supply of unsold new homes sitting on the market, based on the latest rate of sale.
That is well above the four months' worth that was typical during the housing boom of the last decade, and is despite the fact that homebuilders have massively cut back construction while they wait for house prices to recover.