Japanese exports rise in February on demand from Asia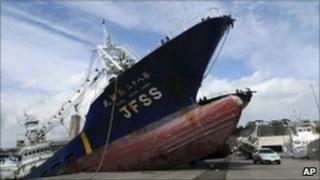 Japanese exports have risen in February bringing its trade balance back into a surplus on increased demand from Asia.
Exports grew by 9% in February from the same month a year earlier, the Ministry of Finance said.
However, analysts now expect Japan's trade balance to deteriorate after a deadly earthquake hit the Fukushima region on 11 March.
Some of Japan's biggest exporters have had to halt production, while many countries have banned imports of food.