Toyota to curb North America production on parts supply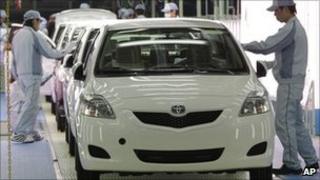 Toyota Motors, the world's biggest carmaker, will slow production at some of its factories in North America due to a shortage of parts.
The company said it was not sure how many factories would be affected and how long the slowdown would last.
Toyota has already halted production at all of its 12 assembly plants in Japan until 26 March.
It has been facing a shortfall in parts after the devastation caused by the earthquake and tsunami in Japan.
The company said it was analysing facilities in the US, Canada and Mexico before deciding where the curbs will be implemented.
A majority of the parts used for Toyota's North American production lines are delivered by suppliers within the region.
The company said that there was ample supply of parts from those regional suppliers, but that it is working with parts makers in Japan to ensure supply chains are restored quickly.
"We will continue to work with suppliers in North America and Japan to minimize any disruptions to Toyota's overall North American operations," said Cindy Knight a Toyota spokeswoman.