Imperial Tobacco shares slide on slowing growth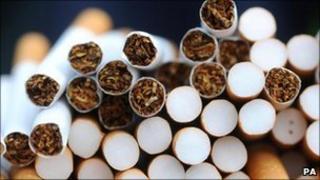 Imperial Tobacco shares fell 3% after the firm said revenue growth would slow, but recovered in late trading.
The cigarette maker said revenues in the six months to the end of March were expected to grow by just 2%, after a 5% rise in the last three months of 2010.
The firm's cigarette brands include Lambert & Butler, West and Gauloises.
In the 2011 UK Budget, tobacco duty was increased by inflation plus 2%, pushing the price of a 20-pack of cigarettes to as much as £7.
The company's share price ended Thursday only 12p (0.6%) lower, at £19.10 after rallying back in the last two hours of trading.
Spanish issues
In early morning trading Imperial was the biggest faller on the FTSE, down 2.97% at 1865 pence.
Part of the slowdown in sales growth was due to a changing market in Spain.
The firm said Spain had continued to be a tough market due to a rise in tobacco duty in December, a ban on smoking in public places at the beginning of 2011, and the continued weakness of the economy.
Imperial, which makes over 300 billion cigarettes a year, said its global cigarette volumes had declined 1% in the past half year.