Credit Suisse bonus pot falls 27% to £3.4bn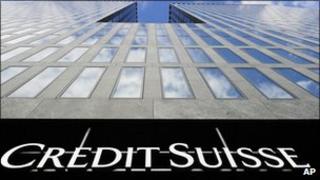 The pay package earned by Credit Suisse Group's chief executive officer fell by 34% last year, company accounts show.
Brady Dougan earned 12.8m Swiss francs (£8.7m; $14m), including a fixed salary which doubled to 2.5m francs.
But his 2010 bonus and other benefits fell to 10.26m francs, dropping from 2009 when he was awarded a hefty package of shares in the Swiss bank.
The total bonus pool for last year fell by 27% to 5bn francs (£3.4bn) as the bank's net income fell 24%.
The highest paid member of the bank's executive board was Antonio Quintella, whose package was 15.63m francs. He was formerly head of the bank's operations in Brazil and now runs the Americas region division.
Credit Suisse is Switzerland's second-biggest bank, behind UBS.
Earlier this month, Oswald Gruebel, chief executive of UBS, announced he was waiving his bonus.
UBS announced that his base salary stays the same as when he joined in February 2009, at 3m francs.