Northern Rock to cut up to 680 jobs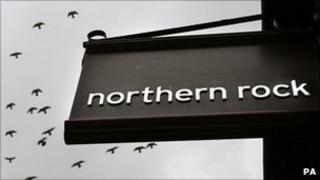 Northern Rock has announced further restructuring that will result in up to 680 job losses as it looks to cut costs.
The job losses would affect employees "at all grades across the company", the nationalised lender said.
The bank said trading conditions remained "very challenging", due in part to the subdued mortgage market.
Earlier this month, the company reported a loss of £232.4m for 2010, but said it was making progress.
"In order to meet our agreed objectives, we must continue to manage our cost base, which is too big relative to the size of the company - regrettably, this will involve job losses," said Ron Sandler, executive chairman of the group.
"Our aim is to minimise compulsory redundancies where possible and we will offer voluntary redundancy."
Bank split
Northern Rock was nationalised in 2008 to save it from collapse during the financial crisis.
Last year, it was split into so-called "good" and "bad" banks.
The "good" bank, Northern Rock PLC, holds savers' deposits and new mortgages, while the "bad" bank, Northern Rock Asset Management, holds the rescued bank's old mortgages and unsecured loans.
The government wants to sell off Northern Rock PLC and recoup some of the taxpayers' money spent on the rescue.
Before the financial crisis, the combined workforce of the two banks was about 6,500.
When Northern Rock PLC was established last year, it employed about 4,500 people. This latest announcement reduces its workforce to fewer than 2,000.