Post Office staff get pay rise and cash sum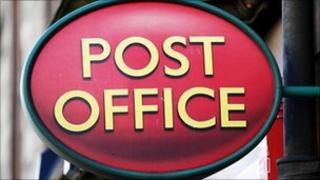 Staff who work in Crown post offices have been offered a pay rise and a cash lump sum after they voted earlier this month to go on strike.
Staff were offered a 3.68% pay rise over the next two years in addition to a cash payment of £1,000, the Communication Workers Union (CWU) said.
The deal also guarantees no branch closures over the next 12 months.
Union members will now be balloted on the deal, with papers being sent out on Friday. The vote closes on 13 April.
It covers more than 4,000 staff working in 373 Post Office branches.
'Job security'
"We're really pleased to have secured this pay rise for staff at the Post Office. It is a piece of good news following a hard set of negotiations," said Dave Ward, the CWU's deputy general secretary.
"The scale and quality of postal services is under threat from government plans to break up and privatise Royal Mail Group along with a declining market, so job security has been a major focus of our talks with the company."
The Post Office said it was pleased to have reached a deal with the CWU.
"The agreement has been made against the backdrop of a difficult economic climate and financial challenges faced by Crown branches," a spokesperson said.
"Both parties will now be working hard to return the Crown part of the network to profit."
For the tax year 2010-11, staff will receive a 2.25% pay rise. For the 2011-12 tax year, they will get a 1.4% rise. They will also receive £1,000 to be paid before the end of April this year.
Earlier this month, union members voted by nine to one, on a 66% turnout, for industrial action over a pay freeze and threatened branch closures.
Before the ballot, the Post Office rejected the CWU's claim for a staff pay rise, saying the Crown branches were losing money, amounting to about £60m a year.