Hampstead Norreys opens village shop run by volunteers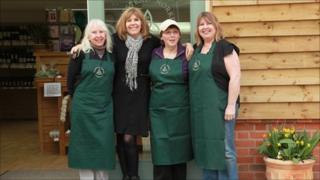 A community shop has opened in a west Berkshire village for the first time since the 1990s after residents joined together to set it up.
The new shop in Hampstead Norreys, near Newbury, is jointly owned by the entire village.
They decided to set up an industrial and provident society (IPS) after the demand for a shop was revealed in a parish survey.
Shares in the new shop were sold to the community.
An opening celebration was held on Saturday, in which the oldest resident of Hampstead Norreys to have been born in the village, Peter Hiscock, cut the ribbon.
The 83-year-old said: "I'm very pleased the shop has opened. I walk through the village every day and you don't see a soul.
"I hope people will meet there and have a cup of tea, because otherwise the village is dead."
Volunteer workers
The new shop will be open seven days a week and be mainly staffed by volunteers, who will sell food as well as offering services such as dry cleaning, key cutting, shoe repair, a prescription drop off service and a coffee area.
So far 50 people have signed up to become volunteer shop keepers.
Shareholders in the village will divide the profits from the business.
Avril Mason, who is on the shop's organising committee, said: "Most of us are volunteers because that's the only way the village shop can make any money.
"We have two paid managers, the rest of us give up our time and come in here and work for free."
'Bought shares'
As well as stocking fresh fruit, fresh vegetables, milk, bread and cat food the shop will also offer a service which allows residents to order ingredients for a dinner party in advance.
Committee member George Greenham said: "We hope as the shop becomes more popular, people will be more incentivised to come and work in the shop.
"All the profits go back to the community. Every member of the village has bought shares in the shop."
Hampstead Norreys has a population of 800 people and is 10 miles from the nearest supermarket.
The shop also hopes to get passing trade as well as serve the local community.
The previous village shop closed in 1990 and was converted into a post office and shop which only opened one day a week.
The post office closed in 2008.