Qantas says natural disasters will dent profits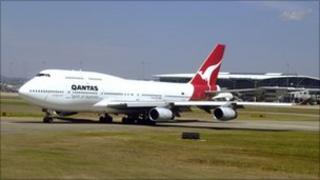 Qantas Airways has warned that profits at the company will be hurt by the recent natural disasters in Japan, New Zealand and Australia.
The company has announced that it is suspending some flights and downsizing capacity on others from Australia to Japan and New Zealand.
Demand for travel to Japan has fallen following the earthquake on 11 March and amid fears of radiation leaks.
Qantas said the natural disasters will cost the company $140m (£87m).
"There has never been a time when the world faced so many natural disasters, all of which have come at a significant financial cost to the Qantas Group," said Alan Joyce, chief executive officer of Qantas.
The carrier said that the grounding of its A380 jets last year will also affect profits.
One of Qantas' superjumbos made an emergency landing after experiencing engine trouble shortly after taking off from Singapore on its way to Sydney last November.
The airline grounded all six of its fleet of Airbus A380 airliners to carry out safety inspections.
The company has put the cost of grounding the jets at $80m.
'Serious challenge'
Apart from natural disasters, airlines worldwide have also had to deal with rising fuel costs in the wake of the unrest in Libya and the Middle East.
Mr Joyce said this posed a serious threat to the company's profits.
"The significant and sustained increases in the price of fuel is the most serious challenge Qantas has faced since the global financial crisis," he said.
Qantas has already increased domestic airfares and international fuel surcharges this year in response to rising fuel prices.
Its subsidiary, budget airline Jetstar, also put up fares and increased ancillary revenue, including baggage charges on some domestic and international routes.
However, Qantas said the increase was not enough to offset the rise in the fuel prices and it needed to take further measures to ensure long term profitability.
"We need to act decisively to respond to rising fuel costs and natural disasters, just like we did during the global financial crisis, to ensure the ongoing sustainability of our business," Mr Joyce said.