Vietnam hikes fuel prices by 15% as oil prices soar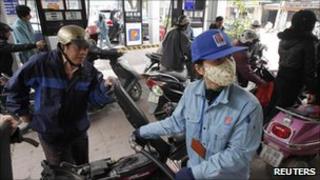 Vietnam has raised fuel prices for the second time in five weeks, citing higher global oil prices.
The government has hiked the petrol price by 10% and diesel by 15%.
Oil prices have been surging due to concerns of a shortfall in supply in the wake of the unrest in Libya and the Middle East.
The price hike is likely to add to the country's inflation woes. Consumer prices in Vietnam rose by 13.9% in March from a year ago.
Last month Vietnam raised fuel prices by as much as 24%.
Slowing growth
On Tuesday, the statistics office estimated that the country's economic growth slowed down in the first three months of the year.
It said it expected the Gross Domestic Product (GDP) growth for the period to be around 5.4% compared to 7.3% in the previous three months.
Analysts say this is the result of the various measures that the government has put in place to curb rising prices.
Vietnam has devalued its currency and also increased interest rates as it tries to balance maintaining growth with keeping prices in check.
The government is targeting GDP growth of between 7 and 7.5% this year, while trying to keep the inflation rate at 7% or less.
Analysts say that the government will have to get its priorities clear.
"The pendulum keeps swinging between pro-growth and pro-stability and the question is, have they finally got it?," said Yougesh Khatri of Nomura.
"It's not like you can have your cake and eat it too," he added.