New Stanlow refinery boss promises expansion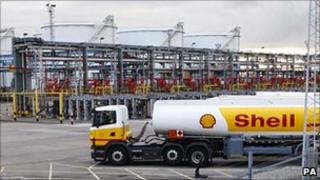 The new boss of Stanlow, the UK's second-biggest oil refinery, has promised fresh investment in the plant.
India's Essar Energy bought the refinery from Royal Dutch Shell in a deal worth $1.3bn (£814m).
Billionaire owner Prashant Ruia told the plant's 900 staff at a series of meetings that they had nothing to fear from its new owners.
The Stanlow plant near Ellesmere Port accounts for about 15% of total production from UK oil refineries.
Mr Ruia said: ''I was able to tell them Essar's vision. We want to expand output. We want to invest. I'm not able to say how many jobs, but certainly we want to grow the site.
"For Shell, this was one of many refineries but for us this will be one of three. We want to focus a lot of attention and investment here."
Staff leaving the meetings were hopeful for the future. One said he believed the company was genuine when it said the deal would bring mean fresh investment and jobs.
That was not the mood when the plant was put on the market two years ago.
Staff had feared for the future of a plant they believed had seen under-investment for a number of years under owners.
Mr Ruia agreed, and said the plant was only running at 75% capacity, a figure he wanted to increase.
The plant, refines 270,000 barrels of oil a day - a sixth of the UK's petrol.
The Essar deal will be completed later this year.