House prices: Sluggish market predicted by Nationwide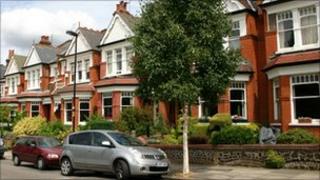 The UK housing market will remain "sluggish" despite a rise in house prices in March, according to the Nationwide building society.
Nationwide's latest housing survey found property prices increased by 0.5% during March.
However, this was unlikely to mark the start of a boom in house prices, the lender said.
The cost of an average home was £164,751, some 0.1% more than a year earlier.
'Subdued outlook'
The three-month on three-month comparison of prices, a smoother indicator of house price trends, showed a 0.6% rise in UK property values, Nationwide said.
"While demand is likely to remain fairly soft, a rapid increase in the supply of properties also appears unlikely," said Robert Gardner, Nationwide's chief economist.
"Low interest rates and a stabilisation in labour market conditions have prevented a rise in forced selling, and the subdued market outlook is deterring many sellers from entering the market.
"With the economic recovery expected to remain sluggish, the most likely outcome is that the property market will follow suit, with low transaction levels and prices moving sideways or modestly lower through 2011."
Bigger picture
The Nationwide's poll is the first house price survey to report on the housing market in March.
Generally, other surveys have shown a slow start to the year, and the Council of Mortgage Lenders recently said that the market was "stuck in a rut".
The house price picture has varied in different parts of the country.
The Land Registry said that average house prices in England and Wales saw an annual fall in February, but prices in London and the East of England rose. This is widely regarded to be the most comprehensive of the house price surveys.
Mortgage demand
The Bank of England's Credit Conditions Survey, also published on Thursday, indicated that demand for mortgages for house purchases had fallen in the first three months of the year.
Some lenders expected that demand would continue to fall in the next three months. The survey also said the number of people defaulting on mortgage payments was rising.
Nicholas Ayre, a director of UK buying agents, Home Fusion, said: "In a climate of rising unemployment, rising living costs and, sooner rather than later, rising interest rates, the demand for property is understandably suffering.
"The only thing that seems to be falling, and sharply, is consumer confidence. Is now the time to commit to potentially the biggest financial outlay of your life? For many prospective buyers, the answer is no."
However, the Credit Conditions Survey showed that remortgaging demand had risen, and lenders expected this acceleration to continue.