Coventry Building Society 'interested' in Northern Rock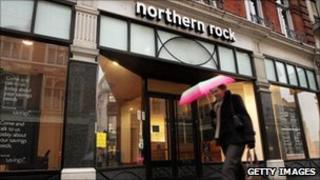 Coventry Building Society has expressed an interest in taking over nationalised lender Northern Rock.
Britain's third largest mutual society said Northern Rock customers could benefit if it became part of Coventry.
The society stopped short of saying if it had made any approaches to Northern or the government about a takeover.
But it said in a statement that remutualising Northern Rock "as part of Coventry Building Society" might make sense.
The government split bankrupt Northern Rock into two last year, forming a mortgage and savings bank called Northern Rock plc and Northern Rock Asset Management (NRAM).
NRAM is the so-called 'bad bank', containing all the toxic loans from the financial crash.
Northern Rock is the 'good bank' - holding savers' deposits and new mortgages - and is being prepared for a return to private ownership.
Coventry said in its statement: "Coventry Building Society's commitment to mutuality has helped deliver consistently superior financial performance and member value throughout the financial crisis.
"The board believes that these credentials would benefit Northern Rock customers if it were to be remutualised as part of Coventry Building Society."
Earlier this month Northern Rock reported a loss of £232.4m for 2010, but said it was making progress toward returning to financial stability.
Bradford & Bingley
Meanwhile, Bradford & Bingley returned to profit in 2010 according to the state-owned firm which manages the bank, UK Asset Resolution.
UKAR said Bradford & Bingley made a statutory pre-tax profit of £1.08bn in 2010, compared with a loss of £196m in 2009.
NRAM also made a profit of £400.5m in 2010, compared with a loss of £257.5m in 2009, UKAR announced.
The holding company said NRAM saw the number of mortgages falling into arrears for three months or more increase by 3% to 25,419 in 2010.
But UKAR said that this rate of increase was lower than in 2009, when there had been an 18% rise.
Bradford & Bingley saw the number of mortgages in arrears fall by 32% since 2009 to 13,096.
NRAM said it had repaid £1.1bn of its government loan over 2010, reducing its balance to £21.7bn.
The Bradford & Bingley loan remained unchanged at £27bn at the end of 2010.
"We achieved all our business objectives in 2010. B&B and NRAM moved from loss to profit and we continue to focus on managing customer arrears," said UKAR chief executive Richard Banks in a statement.
"The combined business is now better placed to move forward in 2011. However, the uncertain economic environment, increases in taxes, inflation and unemployment will, inevitably, impact our customers and our financial results."