Portugal overshoots budget deficit target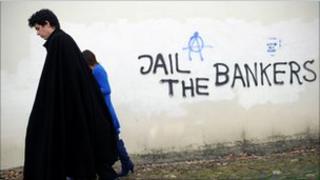 The Portuguese government has admitted missing its 2010 budget deficit target.
The total was 8.6% of economic output, above the EU's 7.3% target. Lisbon blamed the inclusion of losses at state-owned transport firms and a bank.
Portugal's cost of borrowing has risen sharply as bond markets increasingly anticipate a debt default.
Fresh elections will be held on 5 June, the Portuguese president has announced. The minority government resigned last week after losing a confidence vote.
Bail-out delay
The government's short and medium-term cost of borrowing has risen particularly swiftly in recent days, as the prospect of a debt restructuring in the next two years looks increasingly likely.
The yield on Portuguese two-year bonds hit 8.6% on Thursday - its highest since Portugal joined the euro in 1999. The yield has risen by 2.5 percentage points in the past week and a half.
Its five-year cost of borrowing rose to 9.5%.
The caretaker government - in charge following the resignation of Prime Minister Jose Socrates last week until elections expected in May or early June - blamed the revised deficit on accounting changes.
Some 1.8bn euros ($2.6bn, £1.6bn) in losses at nationalised bank BPN were added to the deficit following a visit to the finance ministry by Eurostat, the European statistical office charged with setting strict rules for governments' financial accounting.
The 8.6% level is nonetheless an improvement on the 10% deficit recorded in 2009.
The government said it was still targeting a deficit of only 4.6% for the current year.
Meanwhile, the finance minister, Fernando Teixeira dos Santos, declared that the interim government did not have the legal authority to request a financial rescue package from the European Union and International Monetary Fund.
However, he said that they did have "the necessary financing conditions until a new government takes office" - something expected by this summer.
Inflation vice
Portugal has been put in an even tighter spot by rising inflation.
On Thursday, it was revealed that consumer prices inflation rose to 2.6% across the eurozone as a whole.
In Portugal inflation has been running at 3.5%.
Not only does this put pressure on household finances, but it also raises the prospect of an imminent interest rate rise by the European Central Bank.
Market expectations of higher interest rates have also added to the rise in Portugal's borrowing costs.