Oil price hits 30-month high on new supply fears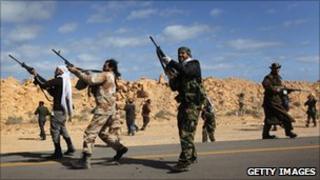 Oil prices jumped to their highest close in two-and-a-half years as Libya's conflict and Middle East unrest sparked fresh worries about supplies.
Brent crude for delivery in May rose $2.23 to $117.36 a barrel, its highest close since August 2008 and up 23.9% so far this year.
US crude rose $2.45 to $106.72, its highest close since September 2008, and jumping 16.8% for the quarter.
Analysts said oil trading recently was the most volatile for two years.
Fighting near Libya's oil ports heightened concerns about the country's ability to re-start production any time soon.
Energy consultants Cameron Hanover said traders are beginning to view the Libya uprising as a stand-off with little sign of resolution.
"Optimism that Libyan oil might return to the market, seen earlier this week, was dashed," the firm said in a statement.
But the oil price also rose amid optimism about the strength of the US economy, which could mean crude imports rising.
Brent crude's recovery comes after it fell below $108 in the aftermath of Japan's earthquake and tsunami on 11 March.