Irish manufacturing holding up, PMI survey suggests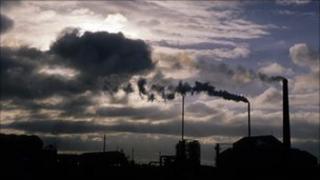 The Irish manufacturing sector is doing well despite the country's banking crisis, a survey has suggested.
Manufacturing activity in March fell only slightly from February, when it was at an 11-year high, the NCB Purchasing Managers' Index (PMI) said.
Exporters led the way with strong demand from abroad, rather than manufacturers serving the home market.
The PMI fell to 55.7 in March from 56.7 in February. A figure above 50 indicates expansion.
"If it weren't for the exporting sector the economy would be in far worse shape," said Brian Devine, economist at NCB Stockbrokers.
"The manufacturing sector is largely driven by exports and we expect them to grow by a further 6% in 2011."
In contrast, it was revealed on Thursday that the country's banks need an extra 24bn euros ($34bn; £21.2bn) to survive the financial crisis.
The Republic's economy shrank by 1.6% in the fourth quarter, according to the latest official figures.