Japan survey shows business sentiment to worsen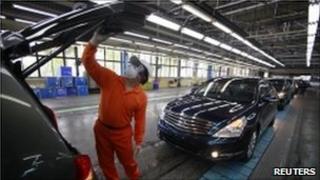 Japan's big manufacturers expect conditions to worsen in the coming three months, according to the Bank of Japan's Tankan survey.
But the decline in business sentiment was not as bad as many expected, leading to questions of accuracy.
The earthquake and tsunami that hit Japan on 11 March have led to rolling power blackouts and a nuclear crisis.
The results of the quarterly Tankan survey are used to shape Japan's monetary policy.
The business sentiment index for this June is at minus 2, showing that big manufacturers are pessimistic.
A positive reading indicates the sector is improving.
Accurate results?
In an unprecedented move, the Bank of Japan released separate figures for March, to reflect sentiment before and after the quake.
The post-quake index for big manufacturers was plus 6, which is the same as it was in the full survey results released on 1 April.
"The positive figure for March strikes me as a bit odd and it's a bit difficult to believe," said Koichi Ogawa from Daiwa SB Investments.
"I wonder if the impact of the disaster is really reflected in the result".
Some analysts say that the survey results are misleading.
"Many companies have still been unable to fully grasp the fallout from the earthquake and subsequent nuclear crisis," said Yasuo Yamamoto from Mizuho research institute.