Mortgage pay-off at a new record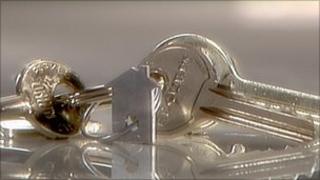 Homeowners paid off more of their mortgage borrowings last year than they had done in any other single year, Bank of England figures show.
Mortgage borrowers paid back more than £24bn to lenders in 2010, the highest since records began in 1970.
They returned £7bn in the final three months of the year, a record amount during any quarter since the Bank started collecting the figures.
The figures also include money paid as deposits by homebuyers.
Lenders demanding higher deposits and rationing home loans would also increase the financial stake that homeowners have in their properties.
In the boom, people used extra mortgage borrowing to cover other spending.
Switching trend
From July 1998 to March 2008 homeowners borrowed an extra £328bn against the rising value of their homes
This is known as housing equity withdrawal. Homeowners cashed in on the increasing value of their homes to buy cars and holidays.
Now the opposite is happening, as families try to reduce their debts and lenders demand higher mortgage deposits.
Borrowers have also taken advantage of low interest rates to pay back more of their home loans while mortgage costs are low.
There has been an injection of housing equity for 11 quarters in a row, the figures show.
Homeowners have now collectively injected £57.4bn into their housing equity since the second quarter of 2008, when the trend switched from withdrawal.
Lenders demanding higher deposits has also increased first-time buyers' financial stake in their homes.
"Extremely low savings rates have made it much more attractive for many people to use any spare funds that they have to reduce their mortgages," said Howard Archer, chief UK and European economist at IHS Global Insight.
Availability
The latest figures show that households spent the equivalent of 2.7% of their post-tax income on reducing their mortgages.
During the boom times, equity withdrawal was providing homeowners with the equivalent of a 9% post-tax boost to their incomes.
Mortgage rationing through demands for higher deposits has contributed to the trend in equity injection.
However, the availability of mortgages has picked up in recent months.
Figures from the financial information service Moneyfacts show that in March, there was an increase in availability of home loans at all loan-to-value levels.
For example, there were 228 mortgages available at the start of April for those offering a deposit of 10% of the value of a home, compared with 202 a month earlier.