China's Minmetals in bid for copper rival Equinox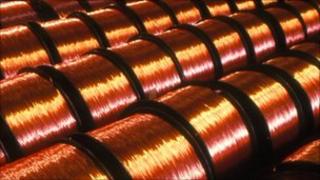 China's Minmetals Resources has made a $6.5bn (£4bn) bid for Equinox Minerals, an Australian-Canadian copper miner.
It is thought to be the largest unsolicited bid by a Chinese mining company, and reflects the sector's acquisition spree.
China accounts for 40% of world demand for copper, and is eyeing Equinox's assets in Zambia and Saudi Arabia
Equinox already has a C$4.7bn ($4.9bn; £3bn) bid tabled for Canada's Lundin Mining.
Minmetals' bid is conditional on this offer being dropped.
Minmetals' chief executive Andrew Michelmore told a press conference in Hong Kong that the bid "fits into a strategy of building a leading international diversified base metals upstream business".
"It certainly fits in with the strategy in terms of growing the base metal size, particularly in terms of copper," he said.
If the takeover succeeds it would propel Minmetals from the world's 30th largest copper producer to the 14th biggest.