Tepco shares plunge to record low on radiation crisis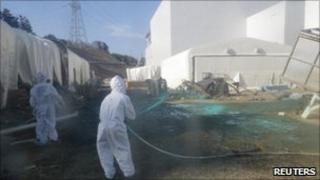 Shares in Tokyo Electric Power Company (Tepco) have plunged to a record low as investors worry that the company will have to pay out billions of dollars in compensation.
Tepco shares fell 18% on Tuesday to close at 362 yen.
Asia's biggest power company has been struggling to contain radiation leaks at the plant which was damaged by the earthquake and tsunami on 11 March.
Tepco shares have lost more than 80% of their value since the quake struck.
The company's previous lowest closing price was 393 yen in 1951.
Nuclear crisis
The company's Fukushima Daiichi nuclear plant was the worst hit by the earthquake and tsunami.
As well as radiation leaking into the atmosphere, water contaminated with radioactive material has been channelled into the sea, raising new environmental worries.
As the company struggles to contain the radiation leak, its stock price has tumbled.
Investors have also reacted negatively to speculation that the company may be nationalised, despite Prime Minister Naoto Kan dismissing those reports.
Analysts say markets are worried that even if the company overcame the radiation crisis, it could still face lawsuits over compensation.
Some analysts have estimated that the company may have to pay as much as 10 trillion yen ($120bn; £74bn) in claims.
Japan's Yomiuri newspaper reported on Tuesday that the company had decided to offer compensation to farmers and residents near the plant.
Lost power
Compensation claims are the not the only worry for the company and its investors.
Its profits are likely to to be severely affected in the aftermath of the quake and tsunami.
Tepco is the fourth-largest power company in the world. It supplies about one-third of Japan's electricity in some of its most densely populated and economically important areas.
The damage caused to the Fukushima Daiichi nuclear plant has hit its power generating capacity, resulting in blackouts around the country.
The company also announced that it would delay the release of its financial results as it assesses the total damage caused by the earthquake and tsunami.