Fixed-rate bonds' interest rates rising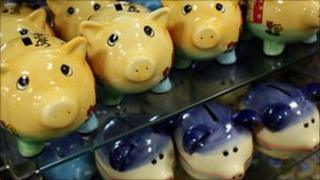 Savers prepared to lock away their funds are receiving the best interest rates for more than a year, according to Moneyfacts.
The financial information service said that the interest rates offered on relatively short-term fixed-rate bonds have been rising since August 2010.
However, they have been increasing from an all-time low of 2.52% for a one-year bond.
The movement signals an expectation of a Bank rate rise in the coming months.
Rates
Moneyfacts said that the average interest rate for a one-year fixed-rate bond was now 2.85%, the highest since March 2010.
For a two-year bond, savers receive an average of 3.42%. Tying in money for three years garners an average rate of 3.7%, and when investing for five years the average interest rate is 4.17%.
"The biggest increase in rates is on short-term deals, which are the most popular amongst savers," said Michelle Slade, of Moneyfacts.
"Most of the best deals are from smaller building societies. If savers want to make the most of their money they may need to look further afield than their local High Street.
"The markets expect a rise in Bank base rate in the not too distant future and this is being factored in to the rates being offered to savers."
However, she warned savers that they would receive a hefty penalty if they needed access to their funds during the fixed-rate period, and so they should consider their financial situation before committing.
Scores of visitors to the BBC Money Matters Roadshow in Plymouth last week explained how they were struggling to find a home for their savings that brought them a decent return.