UK banks introduce lending appeals process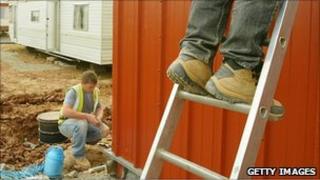 UK banks have introduced a system that allows small businesses to appeal against decisions to turn down their loan applications.
The process was one of a number of new initiatives being introduced by the industry, the British Bankers' Association (BBA) said.
The system will allow a small business to appeal to a more senior bank employee to reconsider its application.
However, small business groups expressed scepticism at the process.
"We are trying to set out very clearly what is the commitment of the industry in how it is going to deal with small businesses," Angela Knight, head of the BBA, told the BBC.
"If the answer is no [to a loan application], and most of the time it is yes, businesses want to have a more senior person look at [their application] and they want to have a better discussion about why it's a no."
However, Andrew Cave, head of policy at the Federation of Small Businesses (FSB), said he did not think the new system would make much of a difference in practice.
"The banks still hold all the cards," he told the BBC.
"Businesses still have to go through each individual bank's appeal process, and can still be turned down without triggering an independent appeal."
He added that the new appeals system only applied to businesses that employ fewer than 10 people.
The appeals process also only applies to businesses with a turnover of less than £25m.
'Inconsistencies'
Under an agreement with the government named Project Merlin, banks have agreed to lend £76bn to small businesses this year, £10bn more than last year.
However, small business groups say the banks are still not lending enough to support their members.
Mr Cave said that lending targets had not been met in the past, and that there were "behavioural inconsistencies" in how different members of staff at the same bank dealt with loan applications.
He said that, according to the FSB's latest research, 16% of small businesses were looking to borrow money and of those nearly 40% were being turned down.
Banks have long argued that lending levels are low because businesses are not looking to borrow, but rather to consolidate during the fragile economic recovery.
Angela Knight said the industry was introducing measures, one of which was the new appeals process, to combat the perception that banks were inconsistent in their approach to lending.
She said banks were also introducing mentors, for free, to help small businesses with their loan applications.
Credit rating firm Experian called the measures "positive news" but also said that small businesses needed to actively manage and monitor their own business credit scores on a continuing basis.
"This will not only put them in a better position to secure credit and loans first time, but it will also help mitigate day-to-day risks to their business," said Simon Streat, Experian's managing director for small and medium-sized enterprises (SMEs).