UK faces 'household recession'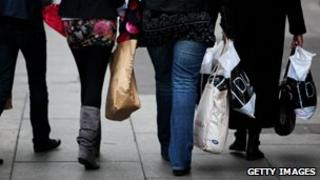 Walk down any High Street, and you will see a blizzard of discounts and promotions right now.
And it is still the start of the spring season.
A sign of the times?
It is certainly part of an increasingly gloomy picture of the current retailing environment.
We have had a string of retailers reporting a slowdown in sales in the last few weeks.
HMV, Dixons and Mothercare have announced profit warnings, whilst Hennes & Mauritz, the popular clothing chain, reported a 30% fall in its net profits for the first quarter of this year.
All eyes were on Marks and Spencer Wednesday morning for its trading update.
It had performed better than analysts had predicted, but they too expect trading to get increasingly challenging.
'Clear slowdown'
It is clear that with many households facing the squeeze, the future is looking a lot tougher for retailers.
They face a double whammy of rising costs and consumers reining back on spending.
So have the last few weeks been a blip or the start of a real dip for retail?
"I think consumers were quite resilient during the recession, but now the chickens are coming home to roost," says Neil Saunders from Verdict Research.
"What we're seeing evidence of is a very clear slowdown in demand from the consumer.
"I think this year could be one of the toughest in decades for retailers."
'Household recession'
Mr Saunders uses an interesting phrase to describe what is now underway. He calls it "the household recession".
In other words, consumers are running out of money.
It is not just a question of reigning back - they simply have a lot less to spend.
That is in contrast to the previous two years when millions of householders still had a lot of disposable income thanks to low interest rates.
It meant that despite the recession, retail sales still held up relatively well.
Discount sales
Consumers are now behaving much like they did at the start of the global crisis, when retail sales really did dip for a few months.
Of all the money currently being spent on supermarket groceries, some 40% is now being spent on items that are either discounted or on special offer.
That is a record, according to Nielsen, the consumer analysts.
The discounters, Aldi and Lidl, are enjoying double-digit sales growth.
Children first
Asda's sales have held steady. Its strategy of giving customers a cast iron guarantee that it will not be beaten on price appears to be paying off.
In recent weeks it has introduced the "round pound" deal.
It means that shoppers can buy thousands of items for a nice round number like a pound, in order for them to make it easier to keep tabs on what they are spending as they shop.
"Price is becoming more and more important," says Asda's chief executive, Andy Clarke.
"Our income monitor shows that our mums are now £11 a week worse off than they were this time last year and they're changing their behaviour.
"So we've had to change our proposition to reflect the fact that customers are thinking much harder about what and how they're spending their hard earned cash."
Ready meals are doing well, showing how people are once again eating in instead of going out.
Sales of womenswear is down, however, although children's clothing is holding up - a tell tale sign for this retailer that mums are putting their children first whilst scrimping and saving elsewhere.
Scratchcard sales are also up.
'Two types of retailers'
So what will the rest of the year hold for retail?
The former chief executive of Marks and Spencer, Sir Stuart Rose, is far from gloomy about the state of the industry.
"If the economy goes forward, which I believe it will, then we've got reasons to be optimistic by the time we get to the end of this year," he says.
"Sure, we've got inflation coming through, but we've still got low interest rates, so providing that people have got jobs, they'll be in a better place or no worse a place.
"Those people who haven't got jobs will find it tough, but that won't affect the whole retail scenario."
And what about all the sales signs and promotions around right now?
"I see two types of retailers," he says. "Those that are doing okay, and those that are doing less okay. But that's always been the case,."