Commerzbank to repay 14.3bn euros in rescue aid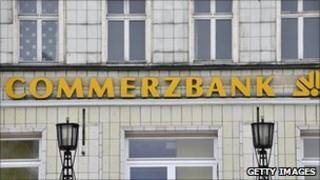 German bank Commerzbank has said it will repay 14.3bn euros ($20.4bn; £12.5bn) in state aid by June.
The bank is to raise some 8.25bn euros from investors as part of the plans to reduce its dependency on state money.
However, as part of the complex restructuring, the German government will retain its 25% stake in the bank.
Commerzbank got more than 18.2bn euros of state aid to survive the financial crisis and complete a takeover of Dresdner Bank, its troubled rival.
The rights issue to raise extra funds from shareholders will take place between May and June, the bank said.
Analysts welcomed the move, and Commerzbank's shares rose 2% in early trading on Wednesday.
Analysts said that, while the bank's announcement did not come as a surprise, it was good that there was now a set time frame to start re-paying the money.