New car sales fell 7.9% in March, says SMMT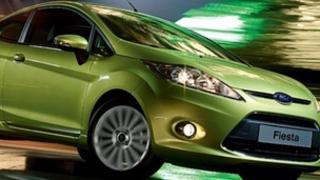 Sales of the new 11-plate cars were down in March compared with the same month last year, figures show.
There were 366,101 new cars registered during the month, which was 7.9% down on March 2010, according to figures from industry body the SMMT.
Registrations in the first three months of the year were down 8.7% compared with the first quarter of 2010, at 558,336.
New car registrations have now declined in each of the last nine months.
The SMMT said that new cars registered in the first quarter had record low emissions, down 3.4% at 140.3g per km.
The Ford Fiesta was the best-selling car in the month, followed by the Ford Focus and Vauxhall Corsa.
March is traditionally the biggest month for car sales, with an average of almost 450,000 cars registered in the month between 2004 and 2008.