Eurozone inflation rate revised up to 2.7%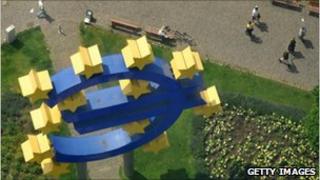 Inflation in the eurozone rose by more than expected in March to 2.7%, from 2.4% in February, driven by rising transport and housing costs.
The revised figure is slightly above the initial estimate released by Eurostat, the European statistics body.
It is the fourth month in a row that inflation has been above the European Central Bank's 2% target.
The ECB raised interest rates from 1% to 1.25% at the start of April in order to try and tackle rising prices.
The surprise rise in the eurozone figure will raise expectations of further interest rate rises this year.
"A further quarter of a percentage point rate hike from the ECB in June looks pretty much inevitable," said Marc Ostwald a markets strategist at Monument Securities.
Varying inflation
Inflation varied significantly between eurozone members.
Prices in the Republic of Ireland rose at an annual rate of 1.2%, whilst in Estonia, inflation was 5.1%.
Transport inflation was more than double the headline consumer price index at 5.6%, housing costs also increased at more than 5%.
The higher transport costs reflect the significant increase in global oil prices in March.
Analysts said that even without rising energy costs the rate of inflation still increased.
Prices around the world have been rising - partly due to the higher cost of oil and other commodities.
Consumer prices in March rose in the US by 2.7% and in China by 5.4%. In India, data published on Friday showed that annual inflation hit 8.9% in February.
Trade deficit
Separate figures from Eurostat also showed a narrowing of the trade deficit for the single currency area in February.
Imports of goods and services exceeded exports by 1.5bn euros ($2.2bn, £1.13bn) compared to a deficit in January of 15.6bn euros.
The deficit was also unexpected. A Reuters poll of economists had predicted a small surplus.
Detailed figures for January showed that the UK had the largest trade deficit in the 27-member European Union.
The UK was also the eurozone's largest trading partner during that month.
The higher deficit in January was because of energy imports of gas and oil from countries including Russia and Norway.