Bank of America profits fall due to mortgage losses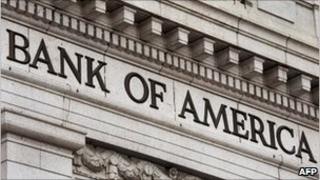 Bank of America Merrill Lynch has reported a 38% decline in profits for the first three months of 2011 compared with a year earlier.
It made a profit of $2bn (£1.23bn), but the bank's residential mortgage unit lost $2.39bn, as debts were not repaid.
High unemployment and falling property prices have seen many US households falling behind on their mortgages.
Analysts were disappointed by the figures which came after unexpectedly good results from rival JP Morgan.
"I think the reason seems to be Bank of America is struggling with the mortgage mess and cleaning up what is going on there," said David Morrison a market strategist at GFT Global Markets.
The first quarter result was, however, an improvement on the loss of $1.2bn dollars made in the final quarter of 2010.
Mortgage problems
The bank has not only faced the problem of debts not being paid, but has also incurred costs due to problems and delays with its attempts to foreclose homes.
The bank said it had lost $874 million in "mortgage-related assessments and waivers".
Some $1bn of costs came from not being able to sell on mortgages which then fell in value.
Bank of America, the US's largest bank, does business with half of all the country's households.
JP Morgan, the second-largest US bank, had also said that it had suffered high losses on its mortgage related assets, including similar costs associated with delays.
"Unfortunately, these losses will continue for a while," said JP Morgan chief executive Jamie Dimon last week.
Analysts say Bank of America is particularly exposed to the mortgage market since its take-over of Countrywide Financial in 2008.
Markets were disappointed at the results with the bank's shares falling 1%.
The bank announced that Bruce Thompson, its chief risk officer, will also become chief financial officer in July.
Chuck Noski, the current CFO, will become vice chairman of Bank of America.
Mortgage losses were one of the main causes of the financial crisis in 2008 which saw Bank of America merge with investment bank Merrill Lynch.
Heavy losses in the merged unit forced the bank to rely heavily on Federal funds through the Troubled Asset Relief Program.