US inflation hits 2.7% in March on higher petrol prices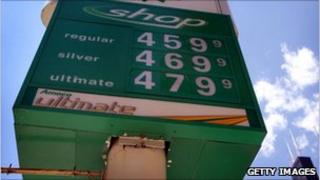 Rising food and petrol prices pushed the annual rate of US inflation up from 2.1% in February to 2.7% in March.
The consumer price figures from the US Labor Department also showed the gain between February and March at 0.5%.
Petrol and food prices together accounted for almost three quarters of the annual increase, leaving these aside the rise was just 1.2%.
As in the rest of the world, fuel and food prices have risen sharply across the US.
Petrol prices were up for the ninth month in a row, rising by 5.6% reflecting the steady climb of oil prices in recent months.
Food prices rose in February by 0.8%, the largest monthly increase since July 2008.
Taking out food and energy costs the increase was just 1.2%.
Wages and salaries in the US are barely growing, which limits the ability of retailers to raise prices.
Rising oil and commodity prices are driving up the rate of inflation around the world.
Figures also released on Friday showed that consumer prices in China rose by 5.6% in March, and by 2.7% in the eurozone. The Indian government said that its inflation rate hit 8.9% in February.
According to a separate government report on Friday, average hourly earnings for all employees, adjusted for inflation, fell in real terms by 1% in the past year.