Mortgages: Should you stick with a variable rate or fix?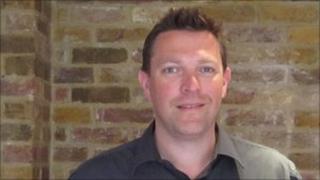 Interest rates have been held at a record low for 25 months now.
This week, we will find out how members of the Bank of England's Monetary Policy Committee voted at their last meeting.
But analysts say it is a question of when, not if, rates will go up.
Millions of homeowners will be affected when they do change.
And they have to decide if switching to a fixed-rate deal would be a better option.
Mortgage worries
Before the recession, Mark Strode, a health care manager from Walton on Thames, was paying about £1,500 each month for his mortgage.
He is on a tracker rate of 0.1% above base rate, so he saw his payments go down dramatically as base rate fell in the wake of the banking crisis.
Now he is paying closer to £800.
"We're managing to overpay by about £250 a month," Mark says.
"But I am worried that interest rates are going to shoot up."
He has two children now and says his money is not stretching nearly as far as it used to.
With the rising cost of living he does not think he could cope if rates went up dramatically.
Slow rise
About 69% of people with mortgages are on variable rates, according to industry figures.
That means many of them, who are enjoying unusually low monthly payments now, could be affected immediately when interest rates do rise.
Mortgage expert Melanie Bien, from the mortgage advisors Private Finance, says many homeowners are wondering if they should move onto fixed deals before any changes in their rates.
However, she does not think such an increase will happen very soon.
"The expectation was that they were going to go up, perhaps next month, but inflation has fallen off slightly, so we're now expecting a rise towards the end of the summer," she says.
"And we're also not expecting rates to shoot up to 5%, but to start rising much more slowly," she adds.
So, she is predicting that base rate will be at 2% by the end of 2012, maybe rising to 3% after that.
Peace of mind?
The biggest benefit of switching to a fixed-rate mortgage is that it gives you peace of mind.
You know exactly how much you need to pay each month, and so you can budget accordingly.
However it might not be the cheapest option.
Many companies charge expensive fees for swapping from one mortgage deal to another and the new rates are not always particularly attractive.
For example, the Nationwide has worked out that if someone has a repayment tracker mortgage for £150,000 at a rate of 1.99% now, they will pay £760 a month.
If they switched to a fixed-rate deal, even at a low mortgage rate like 3.05%, their payments would be closer to £835.
So the fixed-rate deal would not save them any money until base rate had gone up several times, to 1.75%.
If they had to pay any extra fees, it could take even longer for them to feel the benefit.
Tighter regulation
Home-owners could in fact find it difficult to switch to cheap fixed-rate deals.
The best ones are only available for people who can pay big deposits, or have large chunks of equity in their homes.
Sue Anderson, from the Council of Mortgage Lenders (CML), admits it is not an easy time for some borrowers.
"People who are seen as a bit of a credit risk are going to find it harder, in some cases, to get a mortgage at all," she says.
"We're also seeing that people who are also quite good credit risks are finding it harder than the last time they took out a mortgage.
"That's probably not going to change any time soon," she warns.
She says this is partly to do with the tougher regulation of mortgage companies and their lending.
"What we now see is that lenders are having to hold maybe six to eight times more capital, more rainy day money, against a 90% loan than against a 60% loan," she explains.
"So the effect is to make it more difficult to lend at higher loan-to-value ratios."
Tips
There are some steps you can take to boost your chances of getting the best possible rates.
Melanie Bien has three main tips.
"The first thing to do is overpay. Reduce the amount you owe as much as possible," she says.
"Secondly, check your credit history, make sure there are no mistakes on there.
"And the third is to pay any debt you have. So, if you've got any debts on your credit card, pay that down," she advises.