Jobcentre staff on strike for 24 hours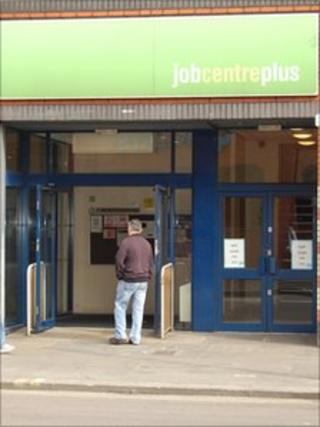 Thousands of Jobcentre staff are on strike in a row over working conditions and management targets.
Members of the Public and Commercial Services union (PCS) in 37 call centres are taking part in a 24-hour walk-out.
The action has affected telephone services for benefit claims, job searches and crisis loans. High Street walk-in Jobcentres are not affected.
The Department for Work and Pensions (DWP) said that calls were still being answered despite the action.
Rerouting
The PCS union said that there were picket lines more than 30 of the call centres.
A union representative told the BBC that more than 90% of its members - who comprise around 70% of the workforce - were taking part in the strike.
With a staff turnover rate of 40% a year, he said that many workers had never been on strike before.
However, the DWP claimed early indications were that some 60% of staff had turned up to work.
"We have contingency plans in place," added a spokeswoman for the Department, saying that calls were being rerouted to ensure they were answered.
Widening dispute
The walk-out follows a two-day strike by union members at seven centres in January.
The DWP announced a revamp of its telephone and benefit processing service in October 2009.
The January action started after a decision to convert seven benefit processing offices into "contact centres", with staff re-allocated to taking calls from the public.
Since then the dispute has broadened to include staff at all 37 contact centres.
In a ballot in March of the union's 7,000 members who work in call centres, 70% of those who took part voted for strike action. The vote had a turnout of 43%.
Although talks continued, they broke down earlier this month, with the PCS accusing management of "little willingness" to resolve their dispute.
The union says it wants to end a target-driven culture, particularly by changing the way "unrealistic" average call times are used.
"The truth is, staff are monitored every minute of the day," said PCS general secretary Mark Serwotka.
"The computer dictates start and finish times and tells them when to go for a break, with staff hauled up if they are 40 seconds late back or go over the time allowed for a call. Toilet breaks are monitored and constantly questioned."
The union argued that a key concern was that quality of service was suffering as staff were encouraged to target an average call-time of five minutes.
"With unemployment so high, many people are claiming benefits for the first time," said the union representative, explaining that callers often need a lot more time to complete their enquiry.
The DWP said it was disappointed at the decision to take industrial action, saying its staff "have good terms of employment including generous holidays, and have a good amount of flexibility".
The Department used performance measures "to ensure that performance and productivity are high", it said.