UK dividends 'to rise more than 13%' in 2011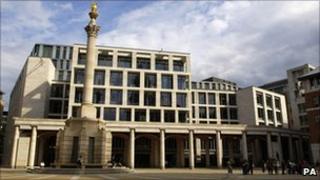 UK firms are set to pay out £64.2bn in dividends this year, up 13.6% on 2010, research by Capita Registrars suggests.
However, the predicted amount is still below the £67.1bn that was recorded in 2008.
It comes after dividend pay-outs jumped 10.3% in the first three months compared with a year earlier, due mainly to a special dividend by International Power (IP).
BP's recent resumption of dividends also contributed to the turnaround.
The oil firm - which had been one of the top dividend payers in the FTSE 100 - suspended three of its quarterly payments last year because of the cost of the Gulf of Mexico oil spill, and it continues to pay a much lower dividend than it did prior to the accident.
'Sign of optimism'
"2011 has got off to a very strong start, and underlying dividend growth will accelerate from here," said Charles Cryer, chief economist at Capita Registrars, which provides company share registration services.
"Even though there are still uncertainties in the wider economy, the dividend recovery is very broadly based, indicating companies are much more confident in their financial position," he added.
"Smaller firms are much more sensitive to swings in the economic cycle, so the dramatic rise in pay-outs from them is a further sign of optimism."
However, the biggest firms continue to dominate, with the top five - AstraZeneca, Vodafone, Shell, International Power and HSBC - accounting for 51% of total dividends for the first quarter.
The findings comes the same day as an economic forecast from the Ernst & Young Item Club which called for companies to do more to invest spare cash, or else release it to shareholders via dividends and share buybacks.