Parmalat fraud case ends with four banks acquitted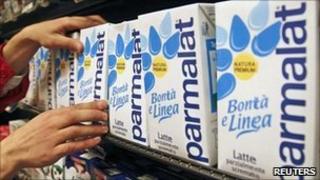 Four banks have been acquitted by a court in Milan over accusations they did not take adequate steps to prevent Parmalat from committing fraud.
Prosecutors had wanted to seize a total of 120m euros (£105m; $171m) from Morgan Stanley, Deutsche Bank, Citigroup and Bank of America.
The banks had denied the criminal charges, claiming that they had also been victims of the Parmalat fraud.
The Italian food conglomerate collapsed in 2003 with 14bn euros of debts.
The four banks were accused of helping to mislead investors in the failed company.
Some 135,000 investors lost the money they had invested in Parmalat's corporate bonds.
"The Milan court's judgment confirms unequivocally that Citi and its employees did not have any involvement in the execution of the most significant fraudulent bankruptcy in Italy," Citigroup said in response to the final ruling in the two-year court case.
It comes after Parmalat's founder and former chief executive, Calisto Tanzi, was sentenced to 18 years in jail in December, for criminal association and fraudulent bankruptcy.