Singapore Exchange's income down 10% on ASX costs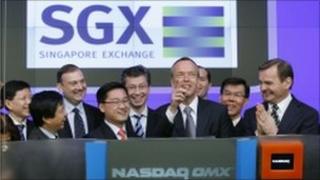 Singapore's stock exchange (SGX), which is one of Asia's largest bourses, saw profits fall 10% after the cost of its failed attempt to buy Australia's ASX stock market.
SGX's net income fell to S$67m ($54m; £33m) between January and March, compared with S$74.6m a year earlier.
The bid for Australia's stock exchange cost SGX S$12m.
Australia's government rejected the $8.3bn (£5.1bn) bid on national interest grounds.
The Singapore exchange's operating revenues climbed 10% to S$169m.
"SGX generated strong operating results in the third quarter amidst global market uncertainty," said chief executive Magnus Bocker.
Growth avenues
SGX terminated its proposal to merge with ASX after Australian Treasurer Wayne Swan's rejection on 8 April 2011.
However, the Singapore bourse is still looking to expand.
"We will continue to pursue organic as well as other strategic growth opportunities," Mr Bocker said in the report.