LVMH luxury goods sales rise across all divisions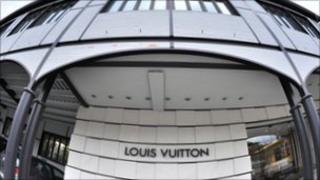 Demand for luxury goods shows no sign of stalling at LVMH, which has seen a 17% rise in sales in the first three months of 2011.
The owner of Louis Vuitton and Moet & Chandon champagne reported sales of 5.25bn euros ($7.5bn; £4.6bn) in the quarter, beating analysts' estimates.
The rise came despite expectations that Japan's earthquake could hit sales in what is a key market for LVMH.
LVMH said US and European sales were improving, while Asia remained strong.
"All business groups recorded double-digit organic revenue growth in the quarter," the France-based firm said in a statement.
The wines and spirits, and watches and jewellery divisions, "continued their strong recovery due to a confirmed return in client demand".
In March, LVMH agreed to buy Italian jeweller Bulgari for 3.7bn euros in a deal analysts said suggested LVMH could make a bid for luxury peer Hermes.
LVMH owns more than 20% of Hermes.