Vauxhall boss warns over UK carmaking future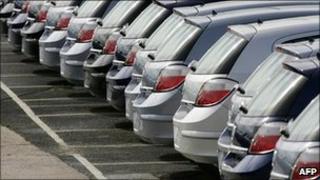 The future of carmaking in the UK could be in danger if the industry fails to develop a British-based supply chain, the boss of Vauxhall has said.
Nick Reilly, chairman of General Motors in Europe, said a lack of home-based parts manufacturers was the most critical issue facing the industry.
Mr Reilly said firms such as Nissan and Toyota were finding it hard to compete.
Meanwhile, the Sunday Telegraph says Jaguar is considering building a major engine plant in the UK.
'Lack of suppliers'
Mr Reilly told the BBC that car makers were struggling because they had to import so many vehicle components.
He said the situation added to shipping costs and created currency risks as well as a longer supply chain.
The current government understood the problem but decisions taken decades ago meant the UK had lost many of its small component-making firms, Mr Reilly added.
"Our biggest issue is lack of suppliers in the UK," he said.
"In the 70s to 90s we gave up a lot of business. What it means is that at Luton [Vauxhall factory] we import a lot of components.
"If we don't have a decent amount of local suppliers it makes this place more difficult to be competitive."
He continued: "Frankly, I think it's the most critical issue facing the automotive industry in the UK.
"It's not enough to have Nissan, Toyota, Vauxhall manufacturing the products because we'll never be able to compete with another country where the suppliers are surrounding the car plants."
General Motors, which was forced into bankruptcy two years ago during the recession, is now majority controlled by the US and Canadian governments.
Car manufacturing at GM Europe's plants in Luton and Cheshire has since been secured for the medium term.
It was confirmed in March that the Luton plant would build the new Vivaro van, produced jointly with Renault.
'Three sites'
Jaguar Land Rover (JLR), one of Britain's biggest car manufacturers, is meanwhile looking at proposals to develop an engine plant in the UK which could create more than 1,000 jobs, sources close to the company told the Sunday Telegraph.
The sources said there were three locations that JLR were considering - Wolverhampton, south Wales and a site in India which has not been named.