Starbucks coffee profits up despite rising costs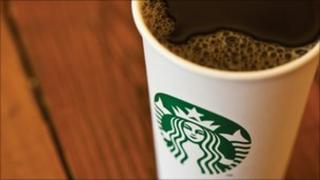 US coffee giant Starbucks has announced a sharp jump in quarterly profits, roughly in line with analysts' expectations.
Net income for the three months to 3 April was $261.6m (£157.3m), up 20% on the $217.3m the company made a year earlier. Revenues rose 10% to $2.8bn.
But Starbucks said rising commodity costs would have a bigger impact this year than previously forecast.
Its shares fell slightly in after-hours trading as a result.
These higher costs meant that the chain's latest full-year forecast failed to hit market expectations.
Like-for-like sales, which strip out the impact of stores open less than a year, rose by 7% in the US in the first quarter. Equivalent international sales rose by 4%.
"Starbucks' record fiscal second quarter results reflect solid performance and execution across all of our businesses," said Starbucks' chief executive Howard Schultz.
"Our sales, traffic and customer trends all point to the expanding power of the Starbucks business."
The company has recently undergone a restructuring programme designed to reduce costs, which involved concentrating on core markets and shutting hundreds of stores.