Boeing's profits rise as aerospace recovery continues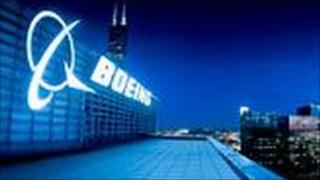 Boeing pointed to continued recovery in the aerospace industry with profits that beat analysts' forecasts and upbeat comments about future trading.
The US aircraft manufacturer posted a first-quarter profit of $586m (£353.5m) despite a small fall in revenues.
Boeing said the rise in earnings was due mainly to efficiencies in its key 737 and 777 aircraft programmes.
Boeing also said the first delivery of the delayed 787 Dreamliner aircraft was on track for the third quarter of 2011.
The company's Commercial Airplanes division saw first-quarter revenue fall 5% to $7.1bn.
It delivered 104 commercial planes in the quarter, including 13 thirteen 777s jumbo jets. Aircraft manufacturers get paid on delivery.
Boeing's Defence, Space & Security unit had revenues of $7.6bn, flat on a year ago.
The company, the world's largest aerospace and defence business, repeated full-year guidance that it expects to make revenues of $68bn-$71bn, up from $64.3bn last year.
"What is clear is that this recovery is ongoing," said Alex Hamilton, managing director of investment bank EarlyBirdCapital.