Berkshire Hathaway says it was 'misled' by David Sokol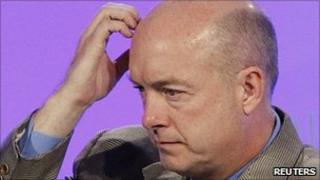 Former Berkshire Hathaway executive David Sokol misled the firm over its purchase of chemicals company Lubrizol, an internal report has concluded.
Berkshire Hathaway said that Mr Sokol violated its insider trading policies.
Mr Sokol traded shares worth $10m (£5.9m) in Lubrizol before convincing Berkshire chief Warren Buffett to go ahead with a $9bn takeover.
But Mr Sokol's lawyer Barry Levine said: "He would not, and did not, trade improperly."
Mr Levine added: "Nor did he violate any fair reading of the Berkshire Hathaway policies."
'Questionable conduct'
It is estimated that Mr Sokol made $3m profit from the trade.
Berkshire Hathaway said it may still take legal action to recover damages from Mr Sokol.
"By engaging in such questionable conduct, Mr Sokol threatened Berkshire Hathaway's reputation - or would have done so had he remained with the company," the company said in its report.
Mr Sokol, once viewed as Warren Buffett's heir apparent at Berkshire Hathaway, resigned from the firm in March.