Unilever sales boosted by emerging markets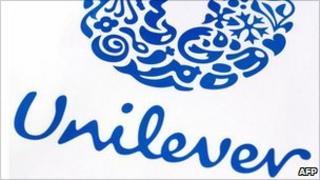 Consumer products giant Unilever has reported rising first quarter sales, helped by strong trading in emerging markets such as China.
Unilever says sales increased by 7% to 10.9bn euros ($16.1bn; £9.7bn).
The firm added that commodity prices and raw materials would increase in the first half of the year, hitting operating margins.
Unilever manufactures a wide range of products, from Dove soaps to Ben & Jerry's ice cream.
"We have delivered a good performance which demonstrates that the transformation of Unilever is progressing well; this against a backdrop of rising commodity costs, weak consumer confidence and very competitive markets," said chief executive Paul Polman in a statement.
Meanwhile, US arch-rival Procter and Gamble, whose products include Tide detergent and Colgate dental products, also announced higher profits.
Third-quarter net income rose by 11% to $2.87bn, despite the rising cost of raw materials.
The improvement in income was led by sales growth in emerging markets, where the demand for consumer products is rising fast.
Although the two compete fiercely in a number of areas, they were recently fined for 315m euros (£280m, $456m) for fixing washing powder prices in eight European countries.
Unilever sells Omo and Surf in Europe, which compete with P&G's Tide.