Honda profits slump as Japan earthquake hits production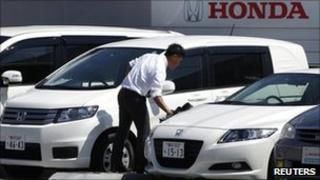 Honda has revealed a 38% drop in profits for the first three months of the year after production was hit by last month's earthquake and tsunami in Japan.
The Japanese car manufacturer made a net profit of 44.5bn yen ($546m; £327m), down from 72bn yen the year before.
The firm also blamed the strong yen for a fall in sales over the period.
However, Honda almost doubled its full-year net profit to 534bn yen.
Forecast?
But it told investors it was currently unable to provide a financial forecast for the coming year because of the impact of the earthquake.
The damage caused by the earthquake and tsunami on 11 March forced production at many of Japan's manufacturers to shut down completely.
Honda was forced to stop its entire production in Japan until 10 April.
"The March quake was the biggest reason for declining profit. We simply could not produce cars due to parts shortages after the quake," said Honda spokesman Tomohiro Okada.
Honda saw its sales of cars fall by 1.6% during the three-month period which it said was mainly down to decreased sales in Japan.
But the company enjoyed a 13% rise in motorcycle sales as a result of increased demand from Asia and South America.